Connecticut Wine Trail Chocolate Truffles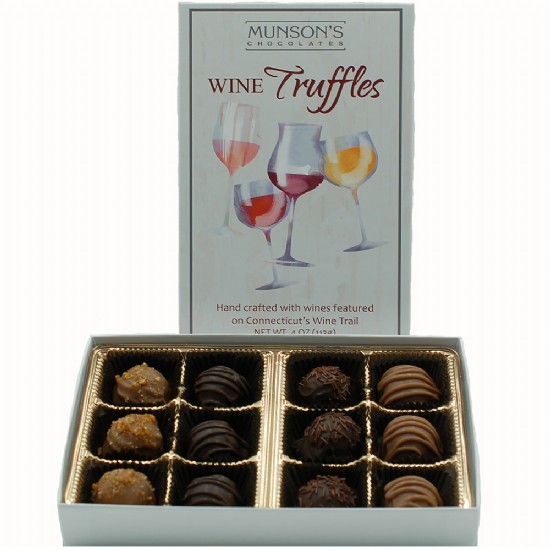 $18.50
This item is currently unavailable.
Description
Infused with wines from Connecticut's famous wine trail, our wine truffles combine classic sophistication with luxurious flavor profiles. This indulgent gift is perfect for the wine lover in your life. (4 oz.)
Bishops Orchards, Guilford, Connecticut – Celebration Wine:
This all-apple wine is made from a combination of sweet and tart apples grown at Bishop's Orchards, which blend together into a light and crisp, semi-sweet wine, reminiscent of a Pinot Grigio. Each of their specialty fruit wines are created on-site by this family-owned and -operated Connecticut Farm Winery.
Jonathan Edwards, North Stonington Connecticut – Merlot:
Known for being a bicoastal operation that originally began in Napa Valley, this 20-acre vineyard in North Stonington is known for blending the heart of Napa Valley with New England. Their Merlot gives notes of ripe cherry and dark plum with a subtle coffee finish.
Chamard Vineyards, Clinton Connecticut – Cabernet Franc:
This traditional New England winery tends to their vines by hand in the classic European tradition which yields a collection
of superior wines. The Cabernet has a lush flavor full of ripe blackberry and spice with lingering tannins.
Sharpe Hill Vineyard, Pomfret Connecticut – Reserve Chardonnay:
Located in Connecticut's Quiet Corner, Sharpe Hill Vineyard has received over 250 medals in international tastings. Their Chardonnay is a lovely crisp and dry Burgundian style Chardonnay. It is bright and clean on the palate with a distinctive mineral character.