Timeless Holiday Picture Perfect Chocolate Tower 34 oz.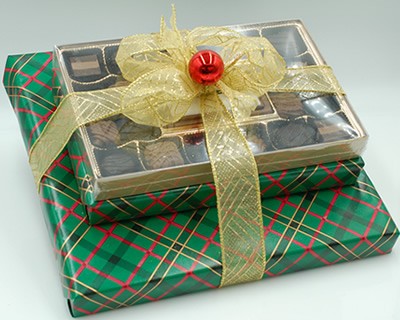 $74.98
This item is currently unavailable.
Description
Our Picture Perfect Chocolate Assortment will have your customers talking long after the chocolates are gone! We print your edible logo on a chocolate business card and surround it with our assorted milk and dark chocolates. The clear cover allows your customers see your custom logo right away.
This chocolate tower is a beautiful package that includes 3 great chocolate box favorites, each wrapped in red and green paper, hand-tied together, and topped with a gold bow and decorative red ball. Includes:
One Pound Chocolate Assortment: Every piece is hand-packed to create an assortment that includes a luscious variety of milk and dark chocolate pieces, like our famous triple chocolate layered truffle, almond toffee butter crunch, award-winning caramels, sea salt caramels, butterscotch caramels, peanut butter centers, poeanut butter caramel squares, almond, peanut and coconut clusters, marzipan, respberry, lemon orange and raspberry creams, plus several others.
Milk Chocolate Caramel Patties (8 oz.): This box features one of our incredible (and popular) treats. Large pecans are mixed with soft and chewy vanilla caramel, and then topped with creamy milk chocolate.
Minimum order for this product is 5.
Please note that a $25 artwork set up fee may be required if we don't already have your logo. Approximate lead time is 7-10 business days from time of approval. Artwork should be in .eps or .ai format and sent to artwork@munsonschocolates.com. A proof will be e-mailed to you for approval prior to printing.