Merry Sweets Holiday Basket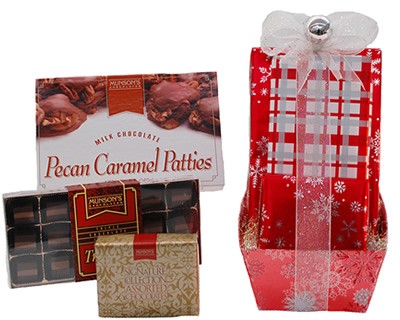 $44.98
This item is currently unavailable.
Description
This basket includes 3 of our top selling chocolates, starting with our 6 Piece Chocolate Assortment that includes our famous almond toffee butter crunch, vanilla caramel, peanut butter center, raspberry jelly, almond cluster and triple chocolate layered truffle wrapped in a snowflake paper.
Our incredible popular Milk Chocolate Caramel Patty box features large pecans, soft & chewy vanilla caramel topped with creamy milk chocolate, wrapped in snowflake paper.
Our most popular truffle is our Triple Chocolate Layered Truffle, a combination of three delicious layers of milk and dark chocolate infused with filbert praline wrapped in a plaid paper, all 3 boxes are nestled in a red basket and hand tied with a bow and decorative silver ball.