Merry Snowman Tower (21.75 oz)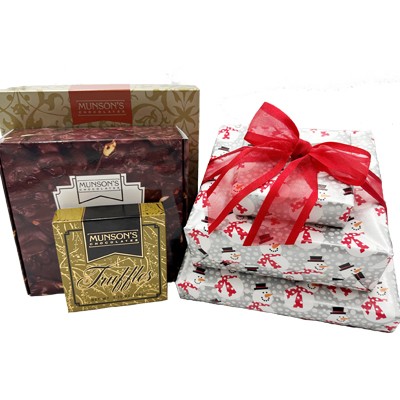 Description
This tower consists of 3 gift wrapped boxes of our incredible chocolates stacked up and tied with red ribbon:
Munson's Chocolate 1 Lb. Assortment is filled with our most popular confections. With 36 pieces in this box, you're sure to find a favorite bite of sweetness. Every piece is hand packed to create an assortment that includes a luscious variety of milk and dark chocolate pieces, like our famous triple chocolate layered truffles, almond toffee butter crunch, award-winning vanilla caramels, sea salt caramels, peanut butter centers, peanut butter caramel squares, almond, peanut & coconut clusters, coconut royals, marzipan, raspberry jelly, lemon, orange & raspberry creams plus several others.
Dark Chocolate Almond Bark - a merger made in heaven: our rich dark chocolate mixed with crunchy almonds. Four Piece Gourmet Truffles: Our truffles are made with chocolate and fresh dairy cream to create a taste that is distinctive and oh-so-indulgent.