More the Merrier Supreme Chocolate Basket 33 1/2 oz.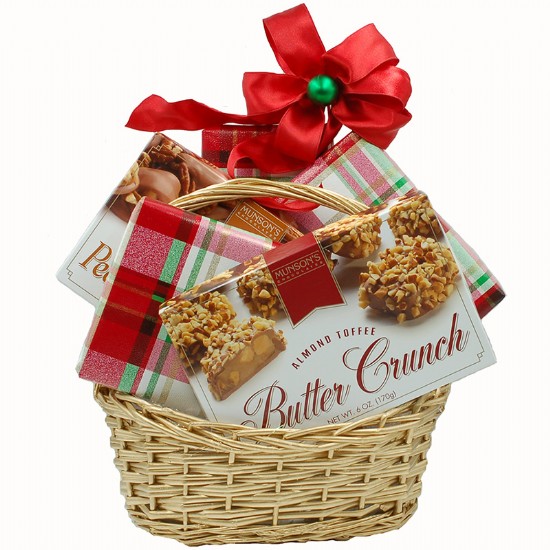 $103.98
This item is currently unavailable.
Description
This basket includes 5 boxes of our top-selling chocolates, all nestled in a gold basket and hand-tied with a red satin bow and decorative green ball.
Almond Toffee Butter Crunch (6 oz.):
Grandpa Munson's recipe for this famous speciality is a family secret! Crunchy butter toffee is covered in pure milk chocolate and smothered with roasted almonds.
Gourmet Truffles (7.5 oz.):
These truffles are made with chocolate and fresh cream in several flavors including chocolate, champagne, raspberry, sea salt caramel and caramel, wrapped in plaid paper.
Milk Chocolate Caramel Patties (7 oz.):
This box features one of our incredible (and popular) treats. Large pecans are mixed with soft and chewy vanilla caramel, and then topped with creamy milk chocolate.
Triple Chocolate Layered Truffle (5 oz.):
Our most popular truffle, this is a combination of three delicious layers of milk and dark chocolate infused with filbert pralines, wrapped in plaid paper.
½ Pound Chocolate Assortment:
This box is hand-packed to create an assortment of milk and dark chocolate pieces like our almond toffee butter crunch, award-winning vanilla caramels, sea salt caramels, almond and coconut clusters, chocolate brownie, coconut royal, marzipan, orange, raspberry and butter cream, peanut butter center, triple chocolate layered truffle & pecan caramel, wrapped in plaid paper.