Holly Jolly Chocolate Tower 21 oz.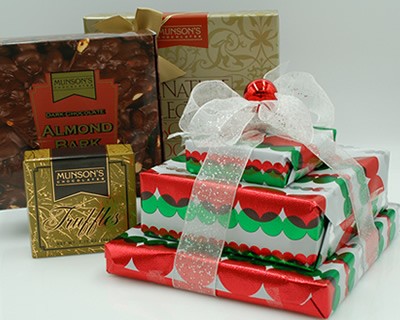 $51.50
This item is currently unavailable.
Description
"Holly Jolly," this chocolate tower is just perfect for the holidays! It includes three great chocolate boxes, each wrapped in red and green holiday paper, stacked to create a tower, and then hand-tied with a bow and decorative red ball.
Gourmet Truffles: 4 of our famous truffles, made with Munson's chocolate and fresh dairy cream.
½ Pound Chocolate Assortment: This popular box is hand-packed to create an assortment of milk and dark chocolate pieces like our triple chocolate layered truffles, almond toffee butter crunch, award-winning vanilla caramels, sea salt caramels, peanut butter centers, almond and coconut clusters, orange cream, and more.
Dark Almond Bark (12 oz.): Rich dark chocolate and roasted almonds make this a winning combination!