Holiday Magic Custom Basket 12 oz.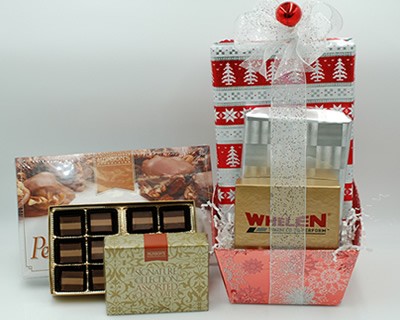 $45.98
This item is currently unavailable.
Description
This basket requires your logo.
The perfect basket to send your friends, family, or customers a little "holiday magic" for the season. Wrapped in silver and red paper with white ribbon, and topped with a hand-tied bow and red ball. Includes:
Milk Chocolate Caramel Patties: Handmade with generous amounts of pecans and chewy vanilla caramel covered in milk chocolate.
Triple Chocolate Layered Truffles: Three delicious layers of milk and dark chocolate infused with filbert pralines – so soft and incredibly good!
6-Piece Chocolate Assortment with Custom Logo: Your company logo goes on the cover of this box which includes almond toffee butter crunch, vanilla caramel, peanut butter center, raspberry jelly, almond cluster, and chocolate layered truffle.
This item requires the addition of a custom logo. Submit your .eps or .ai outlined logo to artwork@munsonschocolates.com. A one-time set-up fee of $25 may apply if we don't already have your logo on file. Artwork Requirements: EPS or AI file with text converted to outlines. Price includes a 2-color logo. The art department will send you a proof before your order goes into production. Lead time is approximately 7-10 business days. If you choose to pick up your order in Bolton, shipping charge will be credited.