Holiday Magic Basket 12 oz.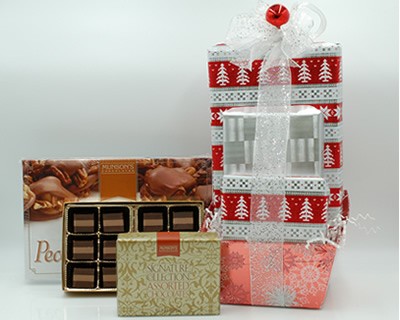 $44.98
This item is currently unavailable.
Description
The perfect basket to send friends, family, or customers a little "Holiday Magic" for the season. Wrapped in silver and red paper with white ribbon, and topped with a hand-tied bow and red ball. Includes:
Milk Chocolate Caramel Patties: Handmade with generous amounts of pecans and chewy vanilla caramel covered in milk chocolate.
Triple Chocolate Layered Truffles: Three delicious layers of milk and dark chocolate infused with filbert praline – so soft and incredibly good!
6-Piece Chocolate Assortment: Includes almond toffee butter crunch, vanilla caramel, peanut butter center, raspberry jelly, almond cluster, and chocolate layered truffle.