Hero Chocolate Camo Bunny 4 oz.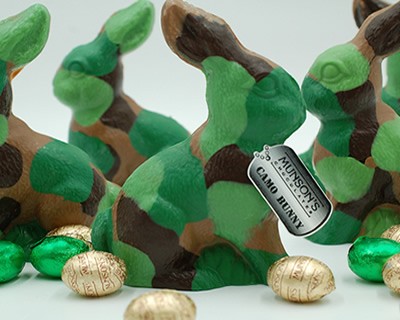 Description
A Munson's Chocolates exclusive: His name is "Hero" and this green camo bunny is ready for duty!
Each rabbit is truly a work of art. Each mold is delicately "painted" with colored chocolate and then filled with milk chocolate. The finished product is just as delicious as it looks!
What's even better? Twenty percent of the sale of each Camo Easter Bunny directly benefits Blue Star Families, a nonprofit organization that helps support military families. Be sure to pick up this fabulous Easter treat early this year as supplies are limited. Don't miss your chance to give someone special a one-of-a-kind Easter gift they will never forget!