Harlequin Holidays Custom Chocolate Basket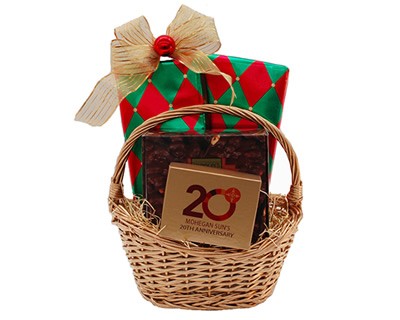 $77.98
This item is currently unavailable.
Description
PLEASE NOTE THIS BASKET IS FOR CORPORATE LOGOS -
( THIS IIEM REQUIRES THE ADDITION OF A CUSTOM LOGO, SET UP FEE'S MAY APPLY - SUBMIT YOUR EPS OR AI OUTLINED LOGO TO ARTWORK@MUNSONSCHOCOLATES.COM)
This basket includes 4 of our top selling chocolates, consisting of our 6
Piece Chocolate Custom Assortment -
that includes our famous almond toffee butter crunch, vanilla caramel, peanut butter center, raspberry jelly, almond cluster and triple chocolate layered truffle with your logo on the cover of the box.
Our incredible popular Milk Chocolate Caramel Patty (7 oz) box features large pecans, soft & chewy vanilla caramel topped with creamy milk chocolate, wrapped in red & green paper.
This top selling boxed truffle is our Triple Chocolate Layered Truffle (5 oz), a combination of three delicious layers of milk and dark chocolate infused with filbert praline wrapped in a red & green paper.
Our Dark Chocolate Almond Bark (12 oz) is a customer favorite, rich dark chocolate mixed with fresh roasted almonds. All 4 boxes are nestled in a gold basket and hand tied with a bow and decorative red ball.
( Please note that a $25.00 artwork set up fee may be required if we don't already have your logo , lead time is 7-10 business days from time of approval - Artwork should be .eps or .ai and sent to artwork@munsonschocolates.com, a proof will be e-mailed to you for approval prior to printing)