Good Tidings Chocolate Tower 21 3/4 oz.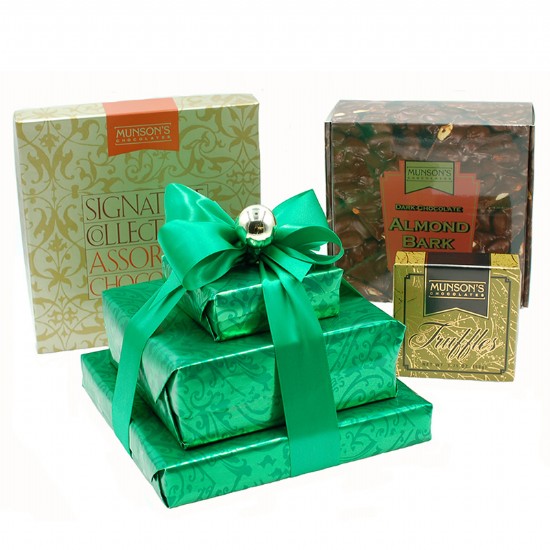 $51.50
This item is currently unavailable.
Description
This "Good Tidings" chocolate tower is just perfect for the holiday! It includes three great chocolate boxes sure to satisfy everyone's sweet tooth! All 3 boxes are wrapped in emerald green paper, stacked to create a tower and hand-tied with a green satin bow and decorative gold ball.
½ Pound Chocolate Assortment:
Every piece in this popular box is hand-packed to create an assortment that includes a luscious variety of milk and dark chocolate pieces, like our famous triple chocolate layered truffle, almond toffee butter crunch, award-winning caramels, sea salt caramels, peanut butter centers, peanut butter caramel squares, almond, peanut clusters, coconut royal, German chocolate, chocolate fudge, raspberry, lemon, orange & raspberry creams.
Dark Almond Bark (12 oz.):
Rich dark chocolate and roasted almonds make a winning combination.
Gourmet Truffles (1.75 oz.):
If decadence has a name it is Munson's Gourmet Truffles. Our truffles are made with chocolate and fresh dairy cream to create a taste that is distinctive and oh-so-indulgent..