Deluxe Holiday Tower with 12 Piece Custom Assortment (MINIMUM ORDER 5 BOXES)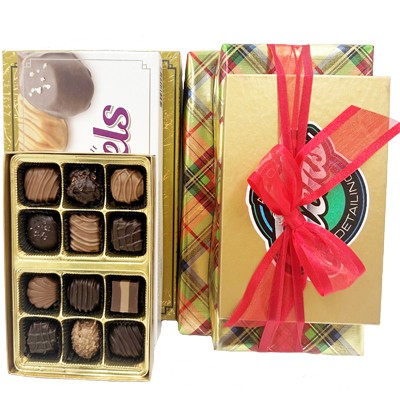 Description
Three boxes of chocolates, Including our 12 piece Custom chocolate assortment box with your logo with the truffles and caramel boxes giftwrapped and tied with a bow, stacked together to create a wonderful custom holiday gift. Package includes:
Gourmet Truffles: Our truffles are made with chocolate and fresh dairy cream to create a taste that is distinctive and oh-so-indulgent.
Original & Salted Caramels: Crafted with fresh cream that we source from a family farm a mere mile from our factory and artfully made in small batches; these are just two of the reasons our chocolate covered caramels are so highly sought after. Milk and dark chocolate.
12 Piece Chocolate Custom Assortment: This box includes your logo on the cover and features 12 of our best-selling chocolates.
(Includes a 2 color logo - set up charge of $25.00 may apply if we don't already have your logo https://www.munsonschocolates.com/products/artwork-set-up-fee/ ) MINIMUM 5 UNITS