Craft Beer Caramels 4 oz.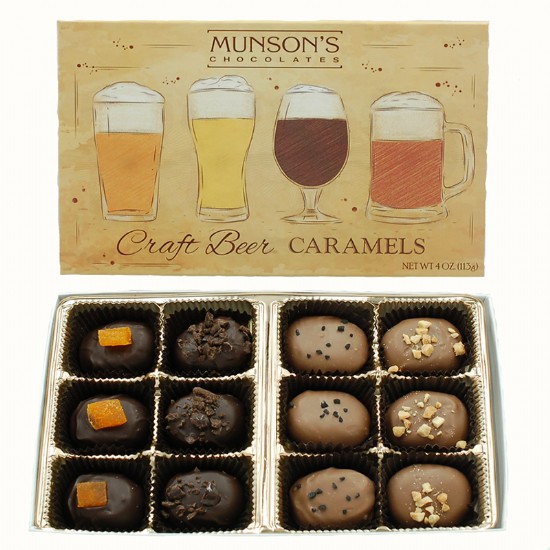 $12.98
This item is currently unavailable.
Description
Beer enthusiasts rejoice! Munson's Chocolates has just announced the release of their new Craft Beer Caramels. We know that exceptional flavor begins with extraordinary ingredients, so we partnered with our friends at Thomas Hooker Brewery to create our latest booze infused confection. Crack open a "12-pack" of our ultra butter caramels infused with 4 of Thomas Hooker's top-selling brews. Cheers!
#NoFilter IPA Caramel:
This juicy New England style IPA is dry hopped with a massive amount of Citra and Mosaic hops and infused into our vanilla caramel, covered in dark chocolate and topped with dried mango to create an unforgettable flavor combination.
Chocolate Truffle Stout Caramel:
This beer is made with copious amounts of oats to produce a silky, full bodied beer with hints of roasted malt and chocolate. Carefully infused into our rich chocolate caramel, we then dip each piece in dark chocolate and top with crushed espresso beans.
Super Duper Double Citra Caramel:
This brew includes a mind boggling level of Citra hops to provide a perfect balance of a silky smooth body and a crisp finish. Infused in our vanilla caramel, covered in milk chocolate and topped with a hint of black sea salt, we double dare you to not enjoy each bite.
Oktoberfest Caramel:
Made from a special blend of imported German malts, this beer is gently hopped and delicately balanced, its true-to-style, slow fermentation and long, cold maturation produces a luxuriously smooth brew. Infused into our caramel, it is then covered in pure milk chocolate and topped with crushed peanuts to enhance the flavor profile.